5354: Neither Here, Nor There
5354: Neither Here, Nor There gathers six Hong Kong artists from the SAIC community. Reclaiming the displaced and disembodied experience of a "long-distance" social practice, 5354 explores the hybrid nature of transnational collective action and its translation across cultures. Sonia Cheng (BA, BFA 2019), Sunday Lai Long Sang (MFA 2018), Adrian Lo (BFA 2017), Celine Setiadi (BFA 2017), Ange Ong (MA 2016) and Justin Wong (BFA 2019) explore the irreversible changes Hong Kong and Chinese visual cultures undergo, and their international portrayal at the crux of postcoloniality and democratic potential.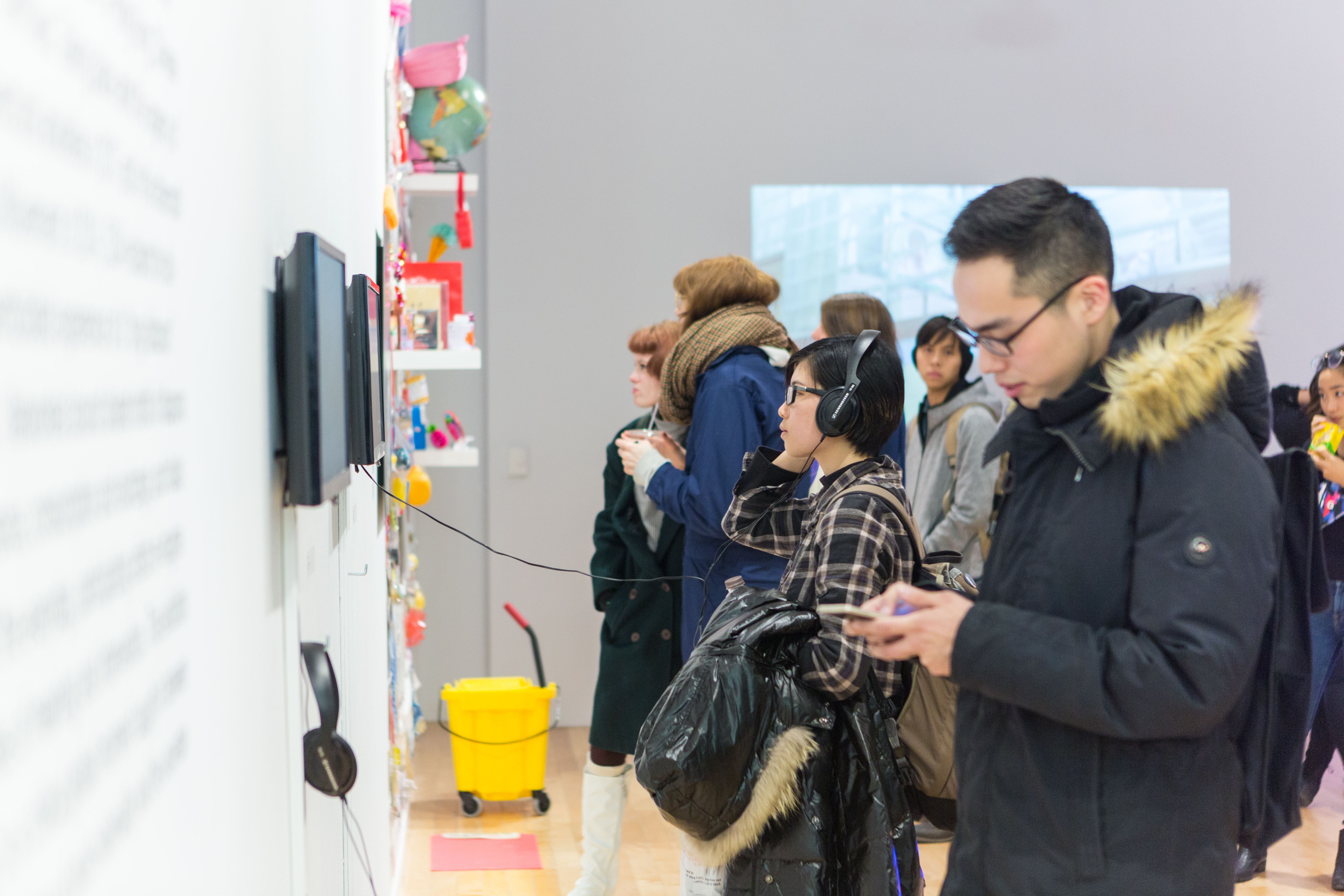 In Hong Kong Cafe and Chinatown Cafe, Ange Ong photographs "cha chaan tang" - ubiquitous "diner"-style restaurants in Hong Kong - in their tradition as shared public spaces of local economy and their transnational representation. Between fact and fiction, it becomes unclear whether these same spaces are located in origin or assimilated into diaspora.
Performing rituals of ownership and relinquishment, Sunday Lai Long Sang continues Ong's engagement with local economy and negotiates quotidian activities in transactional spaces. In two single-channel videos, Lai intervenes into everyday geographies of commerce and consumption, the shopping mall and the pawn shop.
Justin Wong explores further the pawn shop's contradiction: its iconic presence in Hong Kong commercial space and its simultaneous outmodedness in neoliberal economy. With a reduced and abstracted pawn shop sign, Wong initiates a dialogue on the politics of disappearance, tradition and preservation.
Adrian Lo's Yellow and single-channel videos both move to and away from Hong Kong, pivoting particularly on its contentious relationship to China. Othering the familiar within Chinese nationalism, such as the national anthem, Lo tracks the affects of miscommunication in speechlessness, uncertainty and inexactitude.
+
obfuscates the authentic through play. Collected Objects and Before Frying re-arrange and mutate the local in everyday ephemera, while Terracotta La-La Land couches the isolated audio from classic TV advertisements in Hong Kong within the temporary transfer of bamboo scaffolding architectures - an omnipresent method of construction in Hong Kong - into the foreign space of the gallery. Similarly, in Exclusive Futon Club, Cheng transplants advertisement posters typically found in busy urban areas in Hong Kong onto the facade of the gallery on which she manipulates a widely recognizable fabric from Hong Kong
Hybridised and unfamiliar yet locally resonant, Celine Setiadi's Cutsticks looks at cultural ambiguity in global citizenship, migration and indigeneity. Coming full circle with the connection between pedestrian material, domestic ritual and collective action, Setiadi's SHIELD SATCHEL provides novel design solutions to Umbrella Movement activism in Hong Kong. It comes into direct conversation with Ange Ong's performance, ChorGwo, where Ong intervenes into the inconsistent standards the Hong Kong public harbours for two types of "illegal" occupation - the long-time illicit cooptation of wall space and store fronts by advertising posters, and the unauthorised, 79-day takeover of key commercial areas in the Umbrella Movement - as a way to retrospectively reconcile with the artist's own absence in the citywide protests.
manifestea
Manifestea approaches tea as a common yet plural point of entry into the grey zones of decolonial action and imagination. To consider the homogeneous representation of tea as it has persisted in postcoloniality, we deep-dive into the process of a colonialoscopy; how does tea address various historical and contemporary practices of hegemony, erasure and assimilation? Here, tea harnesses its past and current encounters with empire and capital without re-entrenching its traumatic afterlives. Instead, it extends a fluid platform for democratic and intersectional participation in dissent.

As an experimental collective, Manifestea proposes a tea-rapeutic space that connects diverse yet closely tied global experiences of systemic and direct violences in relation to their local sites of resistance. In its current, emergent form, Manifestea does not presume to fully, critically engage every social, cultural, economic, personal and political dimension of tea. Our interventions around tea remain speculative and particularly welcome to challenge and renewal. An open-ended exploration very much in the gestation period, we tentatively and tenderly map and archive the bodies, geographies and knowledges that shape the colonial circulations and legacies of tea as a commons.

We exercise our right to assembly and to assemble a body of collaborative and multiple knowledges, an antibody that in turn defends and upholds the power of the multitude. You are invited to reclaim ownership of the information we often receive and take for granted from the innocuous little tag dangling at the ends of any regular teabag. In any language or form you prefer, you are empowered to rename and rewrite the story of your tea and your struggle from the lens of a cause that truly matters to you, one that you have taken action on or will rise up for. As an alternative mode of continuous and caring protest against specific issues of concern, Manifestea works to make visible and actionable distinct perspectives of the oppressed that transform the scope and nature of decolonization at every turn. Where community participants can now bring their own visions and plans for decolonial justice along with a cup for tea, Manifestea seeks to perform the reparative and restorative potentials of tea as a means toward collective agency and inclusion.


This project is a result of a workshop led by Sampson Wong on October 13th, 2017, on crowd creation, the afterlives of protest objects and the occupation of public space in and beyond the 2014 pro-democracy protests in Hong Kong.
Co-presented by the Departments of Architecture, Interior Architecture, and Designed Objects, Art History, Theory & Criticism, Visual & Critical Studies at the School of the Art Institute of Chicago, and the Chicago Architecture Biennial.
manifestea was in action from October 21st - 27th, 2017, 12:00pm-7:00pm, at the Chicago Design Museum, Block 37, 108 N. State St., 3/F, Chicago, IL 60602.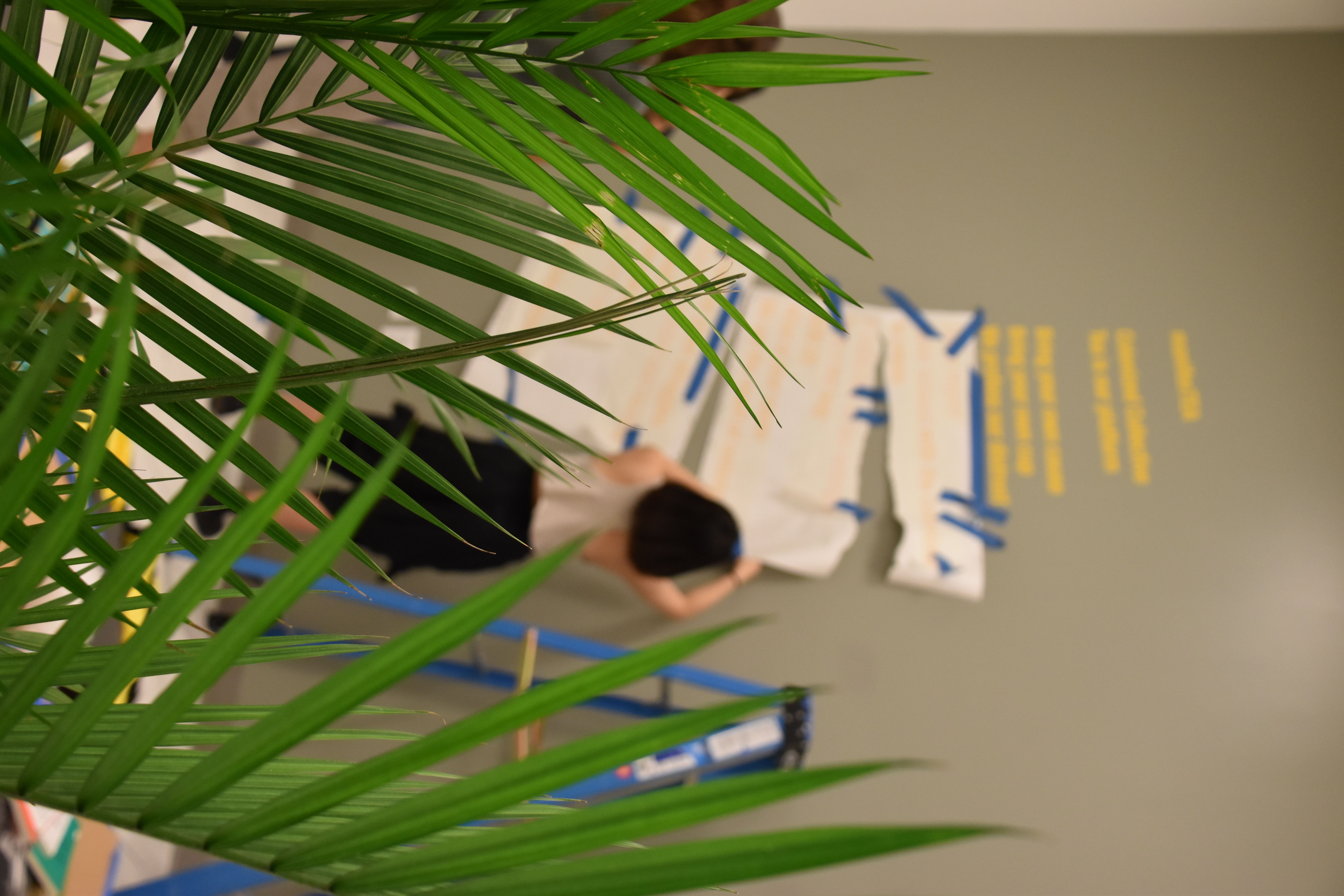 Psychogeographies is an interdisciplinary night of programming exploring the performative embodiment and production of social space occurred on Aug 30, 2019 in Comfort Station Logan Square, Chicago, USA.
This project is made possible by the generosity of the Graduate Dean's Office and the Visual and Critical Studies Department at the School of the Art Institute of Chicago and the Video Data Bank.
Updating the Situationist's eponymous concept, Psychogeographies asks its artists to consider how urban and virtual spaces ought to be reimagined against a backdrop of market-driven surveillance technologies.

With the advent of algorithmic feedback loops and the corporate ideal of Smartness, the divide between digital and material is increasingly tenuous.

Urban space
—synchronized, mundane, and extractive—
has become another method of capture.
Caught in the interplay of communicative surfaces,
we move and labor within a captive landscape.

Psychogeography affords a conception of embodied space that moves towards a disassembling of the social.

Space is performed-- it does not pre-exist.

One creates a psychogeographic map by
abstracting the given,
subverting its currents,
eroding fixed points and hierarchical vortexes.

A practitioner doesn't just proliferate dead zones: they reintroduce new points of entry.
poster by Eliza Chen


Featuring live readings and performances by Jess Gaston, Kevin Rogan, Tom Hack, Micah Schippa, Liza, Doug Rosman, Yarrow Woods, Wanbli Gamache, Eliza Chen, Phaedra Beauchamp, +, Lori-May Orillo, Cherrie Yu, Alex Bliziotis, and Alex Karsavin; as well as the commissioned video work of Talah Anderson with music produced by Clément Hallou, and screenings of films by Basma Alsharif, and eteam*.
*Basma Alsharif's O, Persecuted and eteam's Waypoint, Follow, Orbit, Focus, Track, Pan have been provided through the Video Data Bank.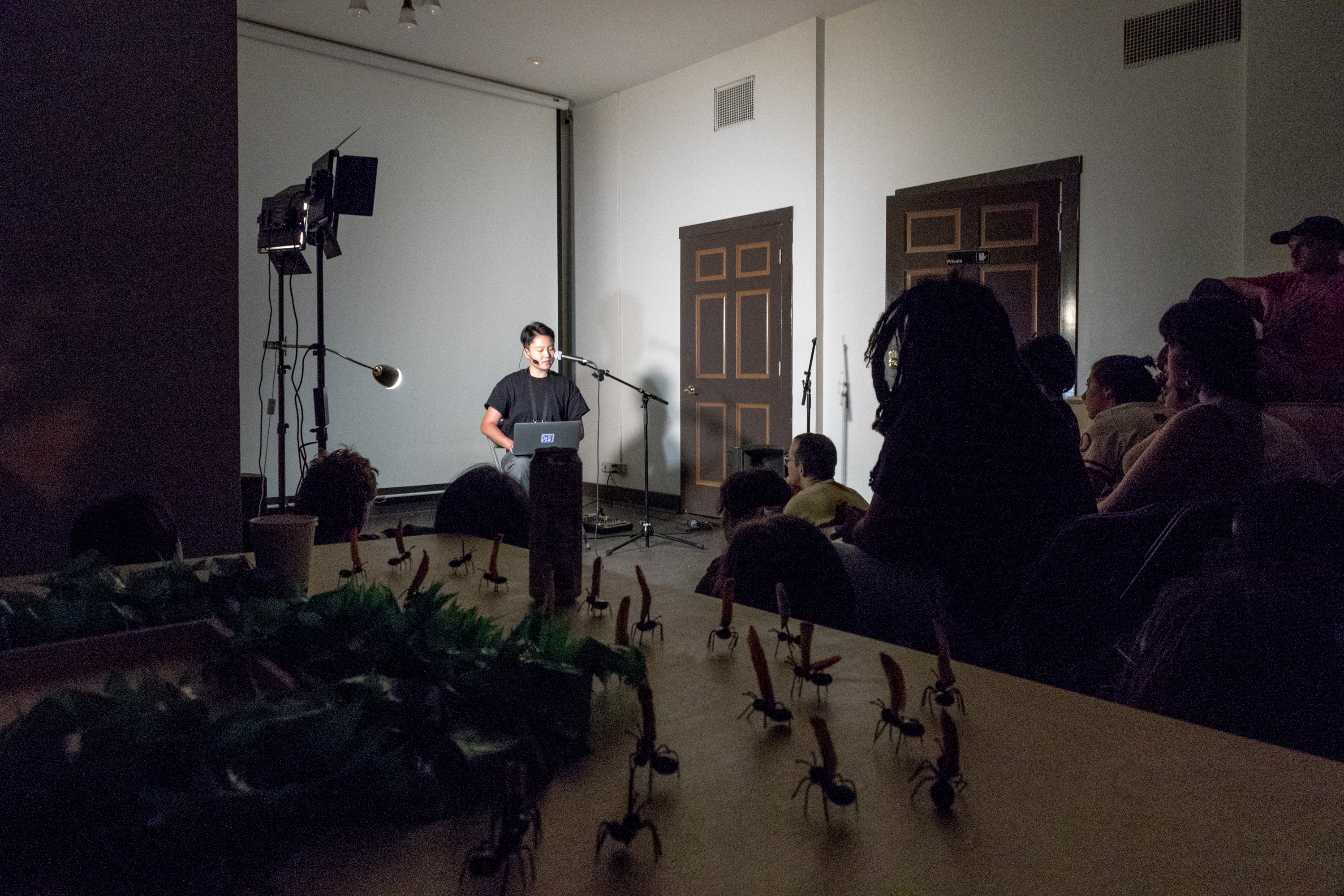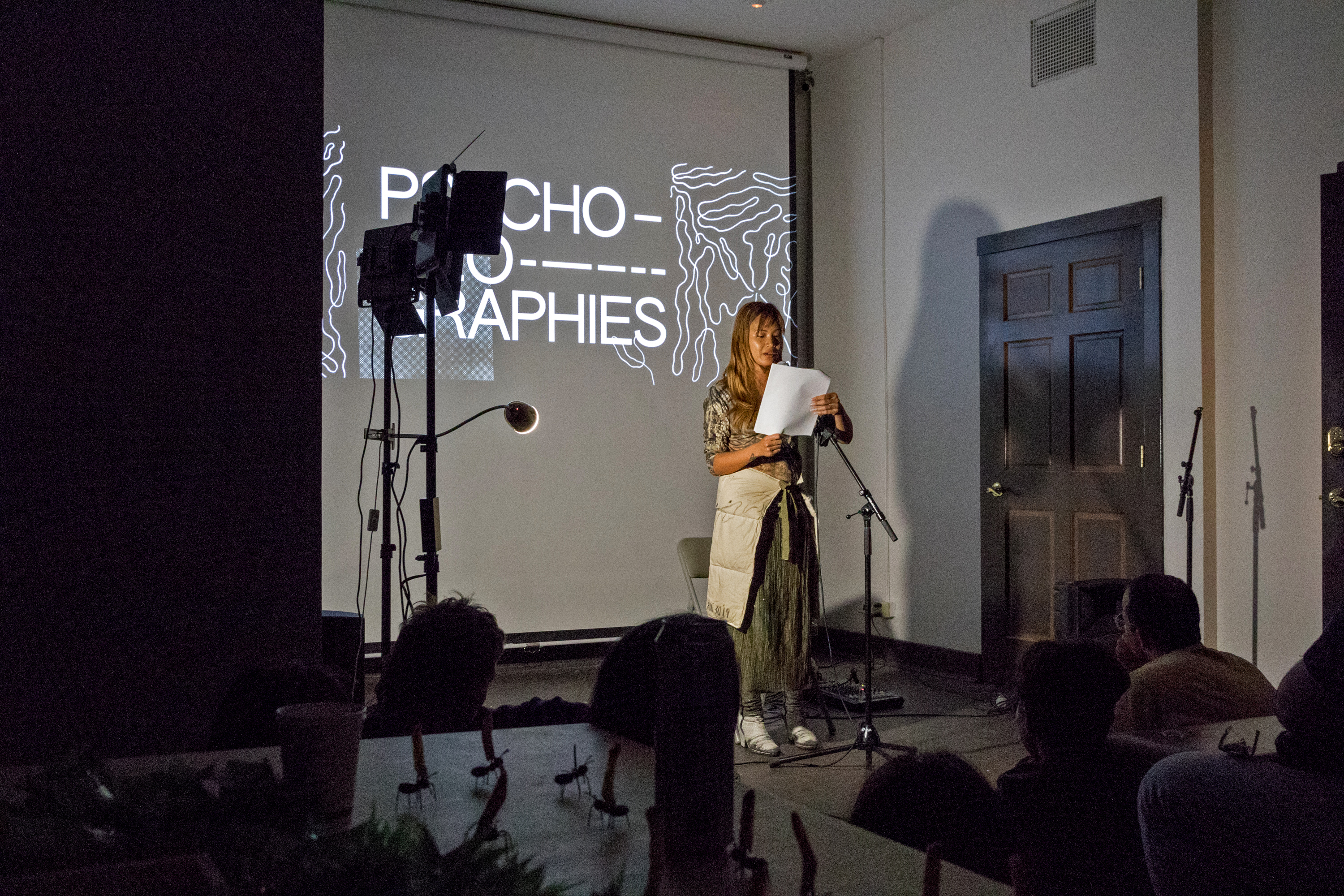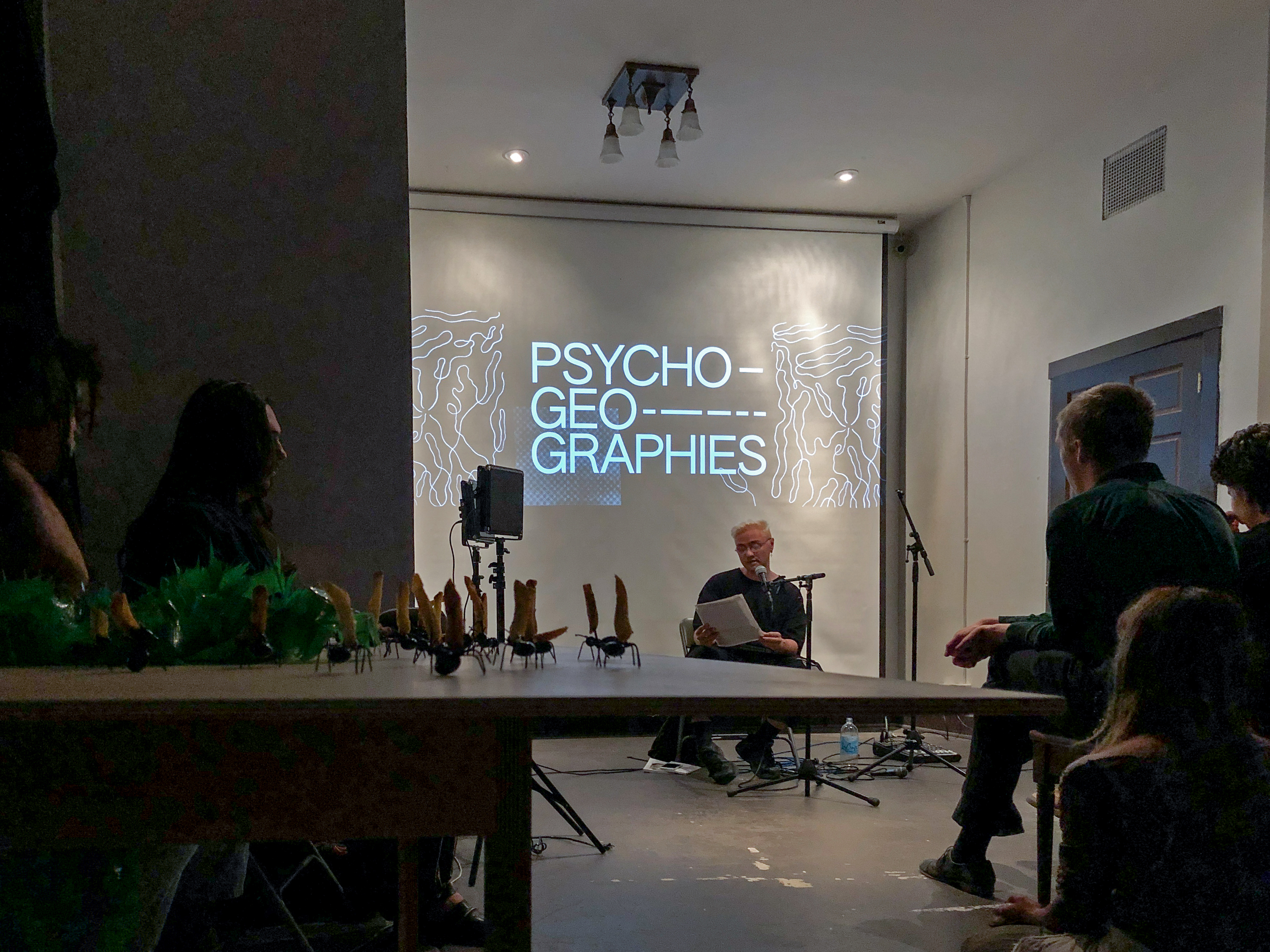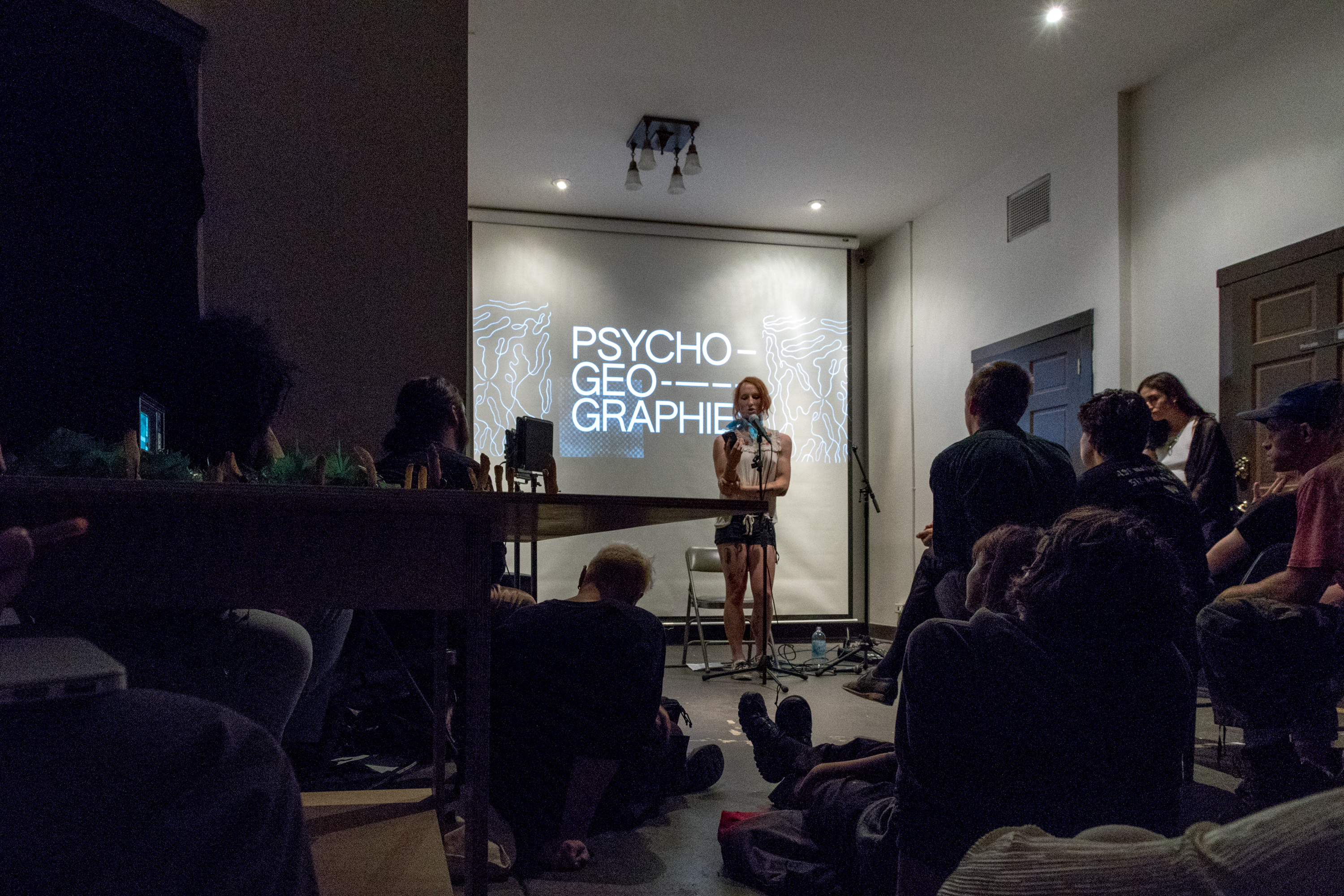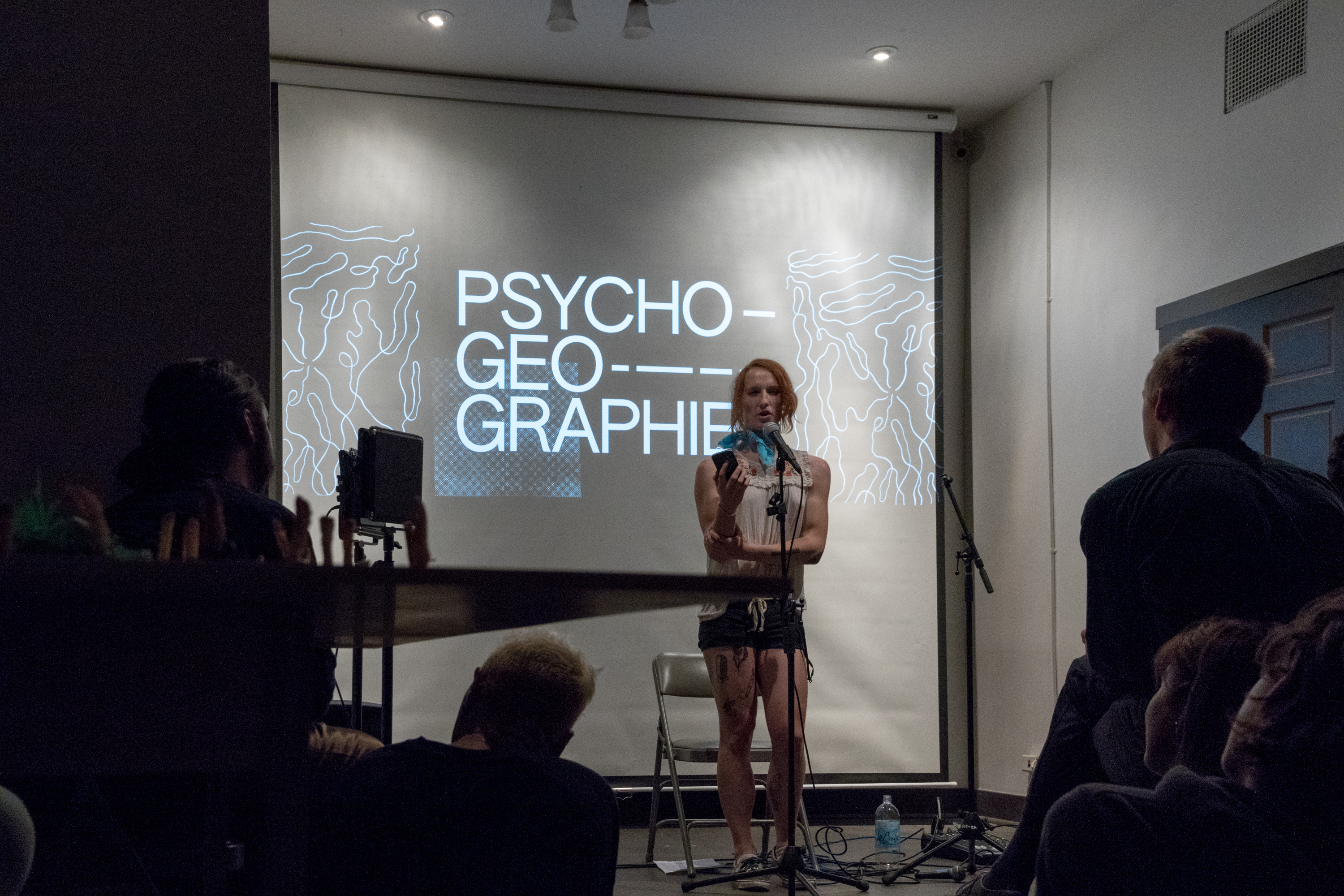 [000047720023.jpg] Sep 10, 2019 at 11:21 AM/ 3620 × 2400/ RGB/ NORITSU KOKI [000047720024.jpg] Sep 10, 2019 at 11:21 AM/ 3620 × 2400/ RGB/ NORITSU KOKI [000047720025.jpg] Sep 10, 2019 at 11:21 AM/ 3620 × 2400/ RGB/ NORITSU KOKI [000047720027.jpg] Sep 10, 2019 at 11:21 AM/ 3620 × 2400/ RGB/ NORITSU KOKI [000047720028.jpg] Sep 10, 2019 at 11:21 AM/ 3620 × 2400/ RGB/ NORITSU KOKI [_MGL8659.jpg] Aug 31, 2019 at 1:23 PM/ 3000 × 2000/ RGB/sRGB IEC61966-2.1/ 5.3107/ 0.3/ f/6.3 [IMG_4538.jpg] Aug 31, 2019 at 4:21 PM/ 1800x2400/ RGB/ sRGB IEC61966-2.1/ iPhone X/ 1.696/ 1/4/ 250 [IMG_9572.jpg] Aug 31, 2019 at 4:21 PM/ 1800x2400/ RGB/ sRGB IEC61966-2.1/ iPhone X/ 1.696/ 1/4/ 250 [lm1.jpg] Aug 31, 2019 at 4:42 PM/ 1800x2400/ RGB/ sRGB IEC61966-2.1/ iPhone X/ 1.696/ 1/4/ 250